This page in Swedish
Nader Asnafi - new professor 2017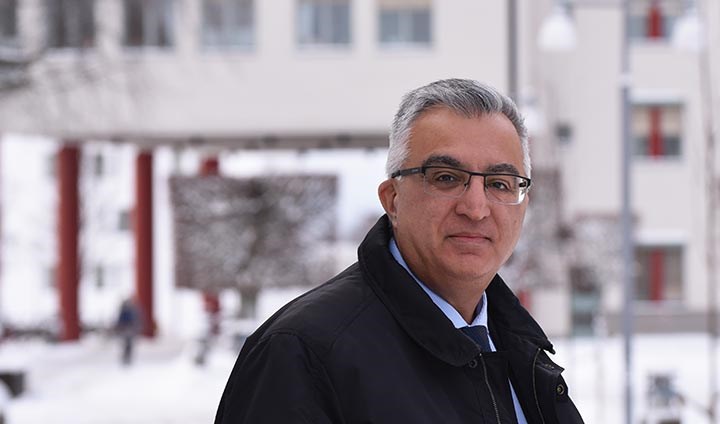 Nader Asnafi is professor of mechanical engineering, with extensive industry experience in addition to his career within academia. He has developed an array of new materials and products, most recently using 3D printing.
Facts:
1960 Born in Teheran, Iran
1997 Obtained his PhD in mechanical engineering at Luleå University of Technology with his thesis Mechanics of sheet metal forming, strength, stiffness, dent resistance, and springback of double-curved autobody panels, Fracture and wrinkling in stretch and shrink flanging by fluid forming
2002 Docent in mechanical engineering at Luleå University of Technology
2016 Professor of mechanical engineering at Örebro University
"3D technology reduces the time to develop tools, thus providing for more effective manufacturing of new products. With a new press tool, for example, I have reduced the material used by 20 per cent and the production time by a third," says Nader Asnafi.
He has recently worked with modular design to achieve higher customisation for businesses, increased manufacturing flexibility with selective laser heat treatment of boron steel and shorter lead time for producing components using 3D printing of metallic materials.
"By selectively laser-treating boron steel when stamping body components, for example, properties of the finished product can be optimised for crash tolerance, while at the same time pre-production investments are reduced."
Nader Asnafi has extensive industrial experience in leading positions from companies such as Esselte Dymo, Sapa Technology, Volvo Cars and Uddeholm. He has also worked as director of studies at Luleå University of Technology and head of engineering division at Blekinge Institute of Technology.
He has developed new materials, products, production methods and systems in several fields of application.
"Some of the guiding principles in my research and development work are lighter materials to reduce emissions, faster and more cost-effective production, higher functionality and higher perceived quality."
Nader Asnafi has worked on improving car manufacturing, in both the technical and manufacturing processes.
"One concrete result is a concept car which combines hybrid design with, among other things, side rails in aluminium. In this way, both weight and manufacturing costs were reduced by half."
In addition to research and development, Nader Asnafi has also designed and performed market research, business development and customer proposals. He has been involved in the entire chain of industrial production, in Sweden and for Swedish companies internationally.
"The most significant areas in my research, development and teaching are product planning and product realisation, through developing materials, products, production, technology and systems. Digitisation plays a vital role in all these areas."