Fabian from Germany: "Örebro University is incredibly welcoming and supporting"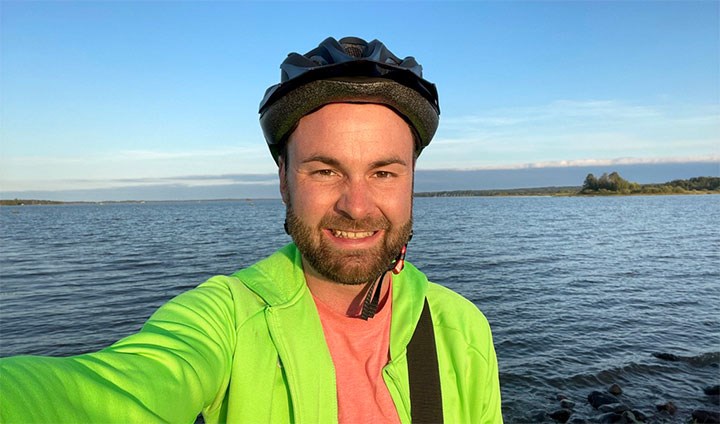 Fabian Schneider enjoying a bike ride in the nature reserve Oset on the outskirts of Örebro, just ten minutes from both the town centre and campus.
Friendly people, being so close to nature, and a university life that is professional yet relaxed drew Fabian Schneider from Germany to the Master's Programme in Strategic Communication at Örebro University, Sweden.
"Thanks to my studies in Sweden, I've grown as a person," he says.
Fabian Schneider came to Örebro, a town in the heart of Sweden, seven years ago as an Erasmus student and has since dreamt of one day coming back.
"I'd never been to Northern Europe when my study advisor suggested Örebro University. The beautiful surroundings and the opportunities to go hiking, cycling and swimming in lakes drew me in. Also, I was impressed by the high level of English everywhere and the professional approach to everything here at the university," he says.
Having worked for four years in marketing and PR for various companies in the sports industry in Germany, he had the opportunity to apply for the Master's Programme in Strategic Communication at Örebro University. It is a one-year programme geared at students from different disciplines, equipping them with the critical approach needed to excel as professionals in a communications landscape that requires a broad skill set within content production, strategic storytelling and visual design.
"I love Örebro"
"For me, it was the perfect complement to what I'm doing workwise – and the timing was perfect. I love Örebro and it felt like a now or never thing. The atmosphere at the university and its surroundings are very inspiring and welcoming. I really appreciate the way the courses are set up. We take one course at a time rather than all courses in parallel, often engaging in group discussions, which means that we get to share perspectives with one another. It's challenging – and it encourages me to always think one step further."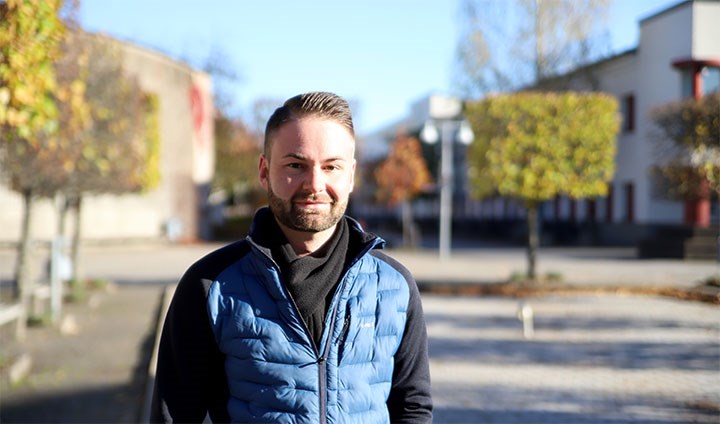 As a master's student, Fabian is studying with 14 other students, half of them Swedes. The rest of the group are from Russia, Peru, Malawi, Indonesia, Spain, Portugal and Greece.
"It's a great mix and it's so cool to learn not only about Swedish aspects, but also about perspectives from all around the world. It's both interesting and exciting. I'm also making the most of learning Swedish, even if the language used on the programme is English," he says.
Easy to find accommodation
As a newcomer in town, Fabian Schneider had help from the Housing Office at Örebro University to find accommodation near campus. Since he is from an EU member state, he is not paying tuition fees. Both teachers and support staff at the university have been helpful and welcoming.
"A major difference to Germany is that things are quite informal here. There's not the same hierarchy between teaching staff and students – it feels as if we're more on the same level. We call each other by our first names and my impression is that the lecturers are really keen to hear our views and opinions. In Germany, a university teacher just wouldn't grab a coffee with their students after the lecture, for instance."
Most things within cycling distance
In the town of Örebro, distances are short, and Fabian Schneider uses his bike to go just about everywhere – the town centre, campus and the countryside. Moreover, Örebro is strategically located in the middle of the country with Stockholm, Gothenburg and Oslo just a few hours away by train.
"Even if my studies are top priority of course, I'll make sure to do a fair bit of travelling during my year here. My plan is to go to Lapland in November, and I also hope to see a bit of both Norway and Finland.
What would you say to anyone who is curious about studying in Örebro?
"Just do it! You'll broaden your horizons and get a chance both to discover Sweden and to get to know other international students. Dare to step out of your comfort zone and grab the opportunity to grow as a person. You'll learn lots of English and gain new knowledge and experiences, while developing your social skills," says Fabian Schneider.
Text: Anna Lorentzon
Translation: Charlotta Hambre-Knight