This page in Swedish
Helen Peterson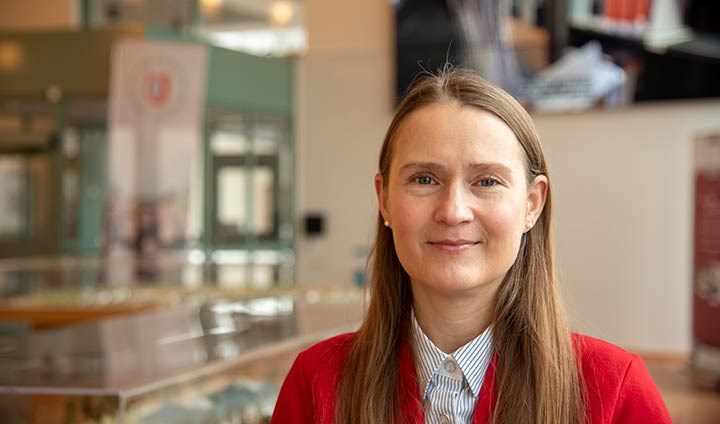 Helen Peterson is professor of sociology. She has studied a wide range of aspects of our working lives – from both the employee's and the employer's perspective. Gender has been the common theme in her research.
1974 Born in Ljungskile, Sweden
2005 Obtained her PhD in sociology at Uppsala University with her thesis Gender, Power and Post-Bureaucracy: Work Ideals in IT Consulting
2012 Docent in sociology at Uppsala University
2019 Professor of sociology at Örebro University
Helen Peterson's thesis deals with gender relations at an IT company. She studied companies chosen at the beginning of the 2000s, based on the fact that they alleged themselves to be gender-neutral. However, when she started her interviews in 2003, the IT sector had been adversely affected by the recession – and gender equality was made a lower priority.
"These companies were facing a defining moment, so their financial problems dictated their actions. Gender equality was no longer on the agenda," says Helen Peterson.
After her PhD, she examined how new technology impacts structures and cultures in organisations, and affects gender relations. "Work norms" has been a central theoretical concept, and prevalent in her research has been the study of how these are formed, negotiated, changed and gendered.
"One example is the ever-increasing requirement to 'sell yourself' and 'take the initiative'. A work norm like this can be perceived as more difficult for women to achieve since they find themselves in a situation where they're also breaking traditional, feminine norms like not drawing too much attention to herself."
In several of her studies, the focus has been on working conditions and career opportunities for women in male-dominated professions, organisations and positions. In one European project, over 200 people were interviewed in 13 different countries.
"Women described themselves as different and dissenting in an organisational culture dominated by men along with a special jargon that reinforced a specific masculine identity," explains Helen Peterson.
She has also contributed to and led several research projects on gender and gender equality within higher education. A particular focus has been on academic leadership and female representation in more senior leadership positions at universities and university colleges in Sweden.
"My studies show, among other things, how the role and demands placed on vice-chancellors have changed during the past 30 years. Consequently, the gender coding of the position has evolved as well. A more communicative leadership has replaced the previous authoritative leadership style. At the same time, the recruitment of women to vice-chancellor positions has increased dramatically."
Successful women in academic leadership positions whom she has interviewed, emphasised the importance of self-confidence, persistence, commitment, a significant workplace capability and support from colleagues and mentors.
"Several of the respondents stated that it might even be easier for a woman than a man to work on their career since it could lead to positive attention and them being able to use their unique position as atypical, as a way to discover non-traditional career paths."
Helen Peterson has also researched how parents negotiate childcare, household work and their careers, in relation to gender equality norms and requirements in working life.
"The focus has then been on questions concerning a 'work/life balance' and boundlessness in working life. Here I have highlighted the value of employees being able to negotiating flexibility in working life."
One of these studies was carried out with Christine Roman, professor of sociology at Örebro University, who also was Helen Peterson's supervisor during her doctoral studies.
Another project that received a great deal of attention is the first sociology project about voluntary childlessness in Sweden. Helen Peterson interviewed women who voluntarily chose childlessness, asking why they chose not to have children and their experiences of how they were treated as a result.
"Why do some women choose not to have children, despite society's fertility norms and motherhood values? And what does it mean for women to break these social norms regarding the nuclear family and the expectations of femininity from those closest to them?"
"These women expressed that they felt a pronatalist pressure that permeates society. They had all encountered stereotypes, myths and prejudices about voluntary childlessness."
The reasons for not having children varied, but mainly concerned the lack of a biological longing to have children rather than the influence of external circumstances. All these women expressed a high degree of awareness that their choice of lifestyle deviated from society's norms and ideals, and that their stance could be viewed as stigmatised.
Helen Peterson is currently overseeing a FORTE-funded project on the on-going gender mainstreaming work in higher education institutions in Sweden. Together with Birgitta Jordansson at University of Gothenburg, she applies an organisational and leadership perspective to change management. She examines each higher education institution's "interpretation" of the mandate for gender mainstreaming of higher education institutions. Issues investigated are the organisational and institutional issues as well which opportunities and barriers for dialogue there are for succeeding in this work.
Translation: Jerry Gray