This page in Swedish
Magnus Löfstrand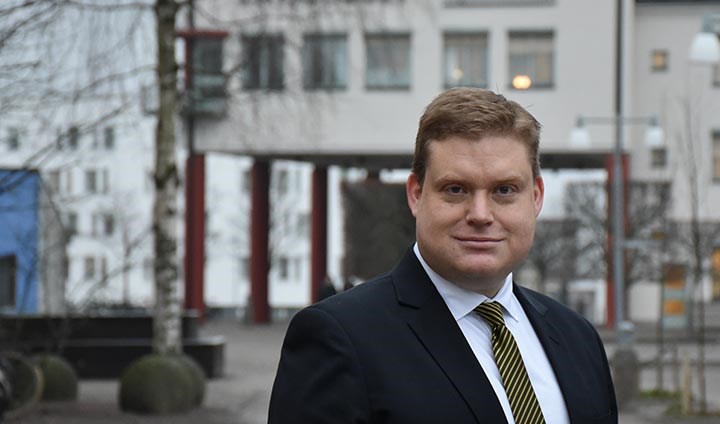 Magnus Löfstrand is professor of mechanical engineering. His research mainly concerns how to design methods to help industry in producing as much as possible with a minimum of resources. This approach creates many interesting mechanical engineering research issues.
Facts:
1974 Born in Mölndal, Sweden
2007 Obtained his PhD in computer-aided design at the Luleå University of Technology with his thesis A modelling and simulation approach for linking design activities to business decisions
2007–2015 Researcher in computer-aided design at Luleå University of Technology, later researcher at Uppsala University and Umeå University
2015 Docent in product and production development, Chalmers University of Technology, Gothenburg
2016 Professor of mechanical engineering at Örebro University
"In this way, the environmental impact is reduced, and the company gets a whole new possibility to make demands on their suppliers to ensure that the systems work under optimal circumstances," says Magnus Löfstrand.
He often uses methods and instruments in his research that are based on data from mechanical engineering and information technology to increase knowledge of mechanical engineering applications.
One goal is to design methods and approaches to develop products and machines with high availability and high operating efficiency. In turn, these methods and approaches will facilitate the design of production processes with as few unplanned stops as possible. Such approaches include simulation of industrial systems, which enables setting up appropriate performance parameters for both hardware and support systems.
"By comparing alternative development solutions, evaluating industrial development capacity and the effects of various developmental alternatives in terms of time, cost and quality, improvements in industrial decision-making are enabled, more quickly and more efficiently resulting in unique competitive industrial advantages."
For upgrading and new installations, simulation models can lead to more modern, more optimal solutions. Companies then have unique possibilities to make demands on their suppliers – and allowing production to be more environmentally adapted.
"In that way, science, and my research, supports the industrial development of sustainable production processes – and competitive production. Industry is characterised today by ever-increasing requirements and pace. I can contribute with knowledge of how engineering work can be improved."
Magnus Löfstrand is also a Swedish-certified skiing instructor, with an international certificate and first in Sweden specialising in telemark. Also, he has a black belt in hapkido and taekwondo.
Read more about Magnus Löfstrand.