About this project
Project information
Project status
Completed
Research subject
In Sweden drawn wire of steel, copper, aluminium, tungsten, and molybdenum is produced. The production of steel wire is around 225 000 tonnes per year. The requirements of surface quality and thereby the process robustness are extremely high for products such as spring steel wires. Development of new specialised wire products places even higher demands on processes. The need to increase productivity and be able to meet the challenges associated with developments in wire materials requires new approaches to production.
Several avenues are explored in parallel within this project. For short-term improvement, work will address the optimisation of process parameters, including ways to minimise change-over times. For medium term impact, the potential of alternative forming technologies (roller dies), not yet been implemented in any Swedish wire drawing mill, will be examined at a test facility at Örebro University. The tribological behaviour of different die systems will be evaluated in collaboration with experts at Dalarna University. To strengthen the area in the longer term, other novel techniques will be assessed for future evaluation. Modelling of the wire drawing process will be done by developing 3-D FEM models.
VINNOVA is supporting this project within the program Strategic Innovation areas.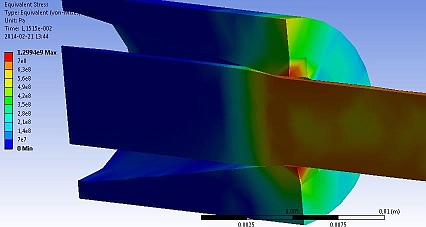 Finite element modelling of stresses in wire drawing.
Collaborators
Mikael Olsson, Högskolan i Dalarna