Instruction FLOWassign
Please note!
Within the scheduled time for your exam:
save your document (or other kinds of files) as one pdf file
upload the file
hand in the uploaded file
Below you will find instructions on how to conduct these three elements. Prepare yourself in good time before your exam starts.
To do before your exam
When writing a take home exam in FLOWassign, you need internet access, a word processor (i e Word) and the ability to save your document to pdf format. Some exams uses multiple digital tools, please follow your teachers instructions if that is the case.
Workflow:
Start a browser on your computer. We recommend Chrome and Firefox.
Go to se.wiseflow.net/oru.
Click on eduGAIN.
Write Örebro University in search box and click on it.
Login with your ORU-account.
Accept that we save your personal data.
You are now att page Overview sthat shows your exams in WISEflow.
Start of exam
Repeat workflow as written above.
If you login in prior to exam start, click on black arrow next to name of exam.You now reach a countdown box.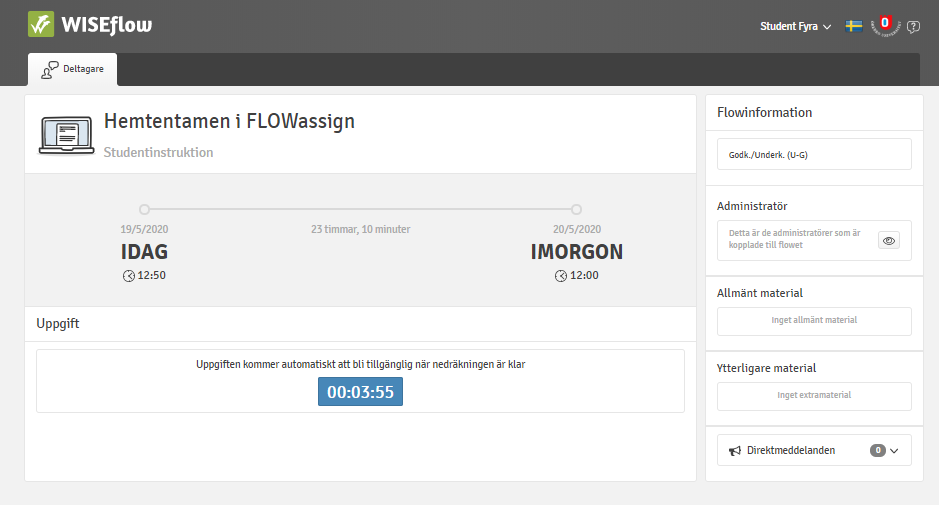 When exam starts, the exam questions will appear on page as a pdf file. You can read it directly in WISEflow or download it to your computer.




During exam:
Read your teachers instructions on first page.
Open a document on your computer and answer the exam questions.
Save regularly where you easily can find your document.
Name your document, not containing any personal data.
You do not need to stay logged in to WISEflow during exam.
Complete and hand in exam:
You need to save your document as a pdf file, in good time before end time of exam. Instructions on how to create an pdf file (Swedish).
Login to your exam in WISEflow, and click on blue button Ladda upp (Upload) and choose your pdf file.
Do not use function 2 Försättsblad (Cover sheet).
After uploading your file, the green button Klicka här för att lämna in (Click here to hand in) will be activated.
You do not need to keep track on anonymous code. Your exam will be anonynmous to assessing teacher.

After hand in, you can send a receipt to your e-mail.
WISEflow automatically sends your hand in to Urkund after end time of exam.


Results:
Your grade will first be published in Studenttjänster and there after you can open your exam in WISEflow to see feedback.