Career paths at Örebro University
Are you considering a career in academia? Read more about the research support which Örebro University offers its researchers, the possible career paths at ORU and meet three of our staff who talk about how their academic journey led them to Örebro.
Scientific and educational skills are more or less required in all appointments, so working in both teaching and research is necessary for pursuing an academic career, which is also at the heart of academia – seeking and acquiring knowledge and passing it on to others.
Below is an illustration of the career paths available at Örebro University. The red arrows show the potential paths to an academic career at Örebro University, where employment begins with an application for an announced vacancy in competition with other applicants. An academic career or career-building path usually starts with admission to the doctoral programme and a fixed-term appointment as a doctoral student, leading to a completed doctoral degree. The position of doctoral student, postdoctoral appointment and associate senior lecturer are fixed-term positions.
The green arrows indicate that you can apply for open positions, as advertised on the university's web. Lecturers, senior lecturers, and professors are often permanent posts. Qualification for a specific appointment means fulfilling the requirements described in three instances – in the Higher Education Ordinance – in the university's appointment procedures – in the employment guidelines established by each faculty board.
The grey arrows indicate an opportunity for teachers with permanent employment of one year or more to apply for promotion to senior lecturer and professor. A permanent employed senior lecturer can also qualify based on their scientific and teaching skills and apply for an appointment as an excellent teacher or docent.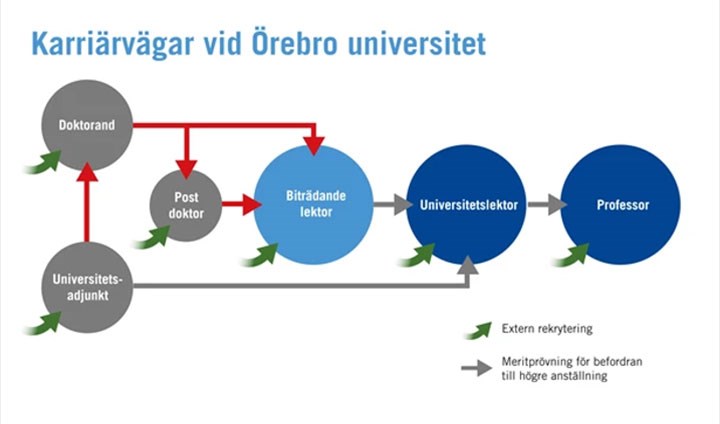 The different positions, as well as the duties and responsibilities involved, are described in more detail in the following.