This page in Swedish
Mia von Euler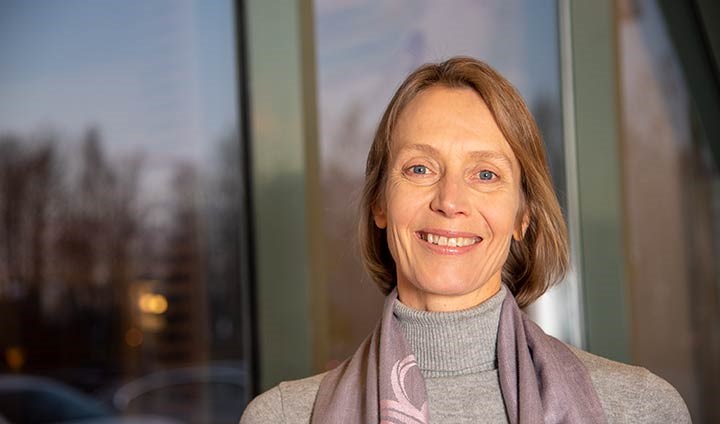 Mia von Euler is professor of medical science with a specialisation in neurology. Her main interest is stroke research – and says that now is a very exciting time within her field.
1967 Born in Stockholm, Sweden
1999 Obtained her PhD in neuroscience at Karolinska Institutet with her thesis Experimental spinal cord injuries, a histological, neurological and pharmacological study in the rat.
2007 Docent in neurology at Karolinska Institutet
2019 Professor of medical science with a specialisation in neurology at Örebro University
"I began researching while studying at Karolinska Institutet. I understood early on that I was fascinated by neurology and neuroscience. My main interests were with spinal cord injuries and the combination of pharmacology, histology (the study of biological tissue) and behavioural studies," says Mia von Euler.
After her medical studies, she combined pre-clinical research with work as a junior doctor at a neurological clinic and an emergency ward. After obtaining her PhD, she changed tracks from spinal cord injuries to stroke and brain injury. She specialised in neurology and later also in clinical pharmacology.
"Clinically, I've mostly worked with acute neurology care and acute reperfusion, a treatment that dissolves or removes blood clots after a stroke. As of late, I've worked first and foremost with epilepsy."
She mainly researches the various aspects of stroke but also studies gender differences and neuropharmacological drug use, primarily for epilepsy. Regarding strokes, she has done a lot of work with epidemiological registry studies.
"The Swedish quality registries maintain good quality, and within the field of stroke there are excellent registries – Swedish Stroke Register (Riksstroke) and National Quality Registry for Endovascular Treatment of Ischemic Stroke (EVAS). The latter collects data on thrombectomies – the surgical removal of a blood clot from the brain," explains Mia von Euler, who is a steering group member for both registries.
In a national collaboration, researchers are currently working on merging these two registries to better study and assess the various aspects of performing the operation – which has truly changed circumstances for patients.
"It is an exciting project and I look forward to its continuation. Especially since Örebro University Hospital will soon begin its own thrombectomy treatment."
She also collaborates with colleagues from the Swedish Dementia Registry, concerning stroke patients with dementia.
"When it comes to dementia and post-stroke cognitive impairment, there is a great deal to study."
"I am also interested in how patients' different backgrounds, comorbidity, gender and socioeconomics impact the outcome of stroke and how preventive treatment is used."
Apart from register-based research, she is conducting randomised clinical trials both in the acute phase, the rehabilitation phase and in the long-term follow up of secondary prevention treatment of stroke – treatment to prevent the occurrence of another stroke.
"One objective has been to examine how use of preventive treatment can improve and involve both patients' and healthcare professionals' behaviours, organisation of healthcare and healthcare economics."
Her interest in preventive treatment also pertains to epilepsy and migraines. Here her focus is on designing and evaluating new ways of following up anticonvulsant and migraine preventive treatment.
"Much of this is about getting patients more actively involved in treatment, which is exciting," says Mia von Euler.
In addition to research, she teaches neurology, clinical pharmacology, evidence-based medicine as well as equal treatment and gender medicine.
"Teaching first, second and third cycle students is something I really take pleasure in. All areas have their charm and are incredibly interesting. Besides courses on stroke, I've previously organised doctoral courses in register-based research and in gender medicine, something I hope I'll be able to continue with also in Örebro"
She has supervised doctoral students in several areas within neurology and pharmacology, most of whom have had some form of connection to stroke.
"Supervising doctoral students is very stimulating and challenging. Even if it may sound like a cliché, you really do keep learning as long as you have students. It's so encouraging to share the delight of research and the intriguing questions that you can shed light on through research with others."
"Right now is a very exciting time within neurology and strokes. Progress is being made all the time, especially regarding treatments – it really is fantastic. Seeing the improvements and what benefit they may have for patients is very inspiring."
Translation: Jerry Gray