This page in Swedish
Anders Björkvall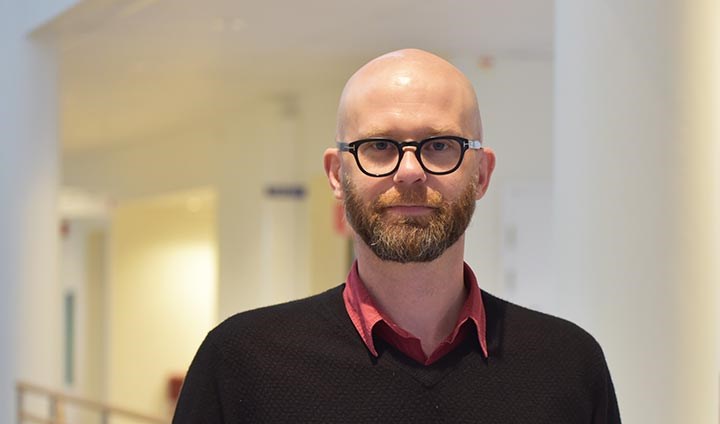 Anders Björkvall is professor of the Swedish language. He researches how language works together with other means of communication, such as images. This research focuses on so-called multimodal texts, language combined with images, colours, and typography in various designs.
Facts:
1972 Born in Uppsala, Sweden
2003 Obtained his PhD in Scandinavian languages at Stockholm University with his thesis Model readers in Swedish advertising
2006–2007 Postdoctoral researcher at University of Technology, Sydney, Australia
2011 Docent in Scandinavian languages at Stockholm University
2016 Professor of Swedish at Örebro University
In his thesis, Anders Björkvall analyses how readers of advertising were offered different identities, both linguistically and through images, colours, and designs. The gender of the intended readers was decisive for how these identities were portrayed.
In another ongoing research project, he looks at the text presentation of core values for various government agencies.
"These texts have only existed for about ten years and are part of a changing approach to governing public authorities. We look at how this steering works and why images and other visual means are now used in a way that we have not seen before in texts of public authorities," says Anders Björkvall.
"A key aspect of this sort of text research is developing methods and theories that can capture the linguistic, visual and design complexity of texts."
Anders Björkvall is also interested in language and texts regarding technology and learning in school.
"Specifically, it is about my research into what happens when children and young people get a laptop at school, in so-called 'one-to-one' projects."
Research in this area has shown that opportunities for both meaning-making and learning via computers are perceived very differently depending on how teachers and school management perceive technology in school. How pupils and those in their home environment perceive technology and learning also affects this process.
"This research has a distinct educational relevance because it links text creation in a 'one-to-one' context to different ways of acting in a classroom, in a corridor or at home," says Anders Björkvall.
"I also conduct research that many might not expect from a professor of Swedish. I'm interested in various kinds of tangible objects that haven't been analysed traditionally by linguistics. For instance, how can meaning-making through furniture or other everyday objects be understood linguistically but primarily in an interdisciplinary perspective?"
Related research is being conducted in a multi-year collaboration with the University of Cape Town in South Africa. Anders Björkvall is studying the process when waste is given increased value through so-called 'upcycling' and how it can be understood as a global, meaningful process.
"An example is how a milk package at a landfill in Africa is washed and redesigned into a coaster, which is later exported and sold in a store in Sweden," says Anders Björkvall.
"Among other things, we have been able to show how this process has similarities with how writing in higher education takes place."
Within the same collaborative project, they also research banal writing in public places, like graffiti. The starting point here is, what does this say about humans as a writing, cultural being.