Arrival and Orientation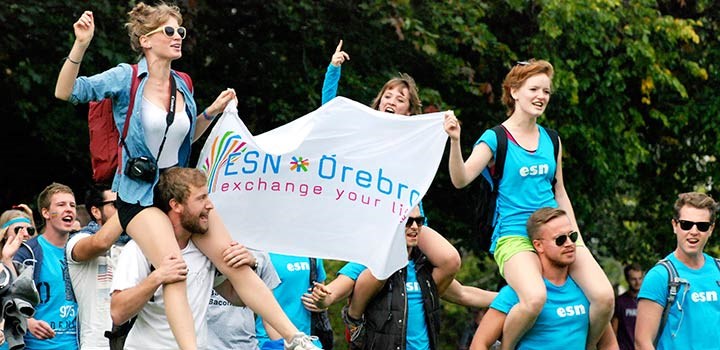 Your exchange semester at Örebro University starts with Arrival Days and continues with a one-of-a-kind – and by the students, very appreciated – three week long orientation programme.
During our Orientation Programme we offers a variety of activities, all designed to make the adjustment to Örebro and Sweden as smooth as possible. The main focus is to integrate students practically, academically and socially.
Arrival Days
Each semester, on the Arrival days, new exchange students are greeted to Örebro University by the International Office and ESN Örebro, a non-profit student organization. During these day, you collect the keys to your accommodation and are guided there by the "fadders", ESN student buddies. You will also receive important information from the International Student Assistant to get you started as a student at Örebro University.
The ESN crew, including fadders, will be there to answer any questions and inform about activities during the semester.
The Arrival day for the spring semester 2023 will take place on Sunday 15 Janaury 2023. Before coming to Örebro, you will be asked to fill out a form so we can best prepare for your arrival.
Click here to get to the Arrival Form
Arriving before or after the Arrival days
If you arrive before or after the Arrival days, please specify when in the arrival form. Our International Student Assistant will contact you to make the necessary arrangements.
If you plan to arrive after the start of the semester, please contact the International Student Assistant. This is very important as late arrival might mean you are not allowed to start the courses you have been accepted for.
Orientation Programme
The Orientation Programme is a collaboration between Örebro University and the non-profit student organization ESN Örebro. ESN Örebro accompanies approximately 180 students every year and engages around 100 fadders (buddies) to offer exchange students the best experience in Sweden.
Practical and academical activities
As a part of the Orientation Programme, all exchange students will learn about the academic system and Sweden in general. You will have knowledge of how things work
at the University and in Sweden. These lectures are free of charge and mandatory for all students.
Social activities
The Orientation Programme also includes many social activities, both during day- and night time as well as on weekends. If you want to take part of the social activities in the Orientation Programme, you have to pay a participation fee. The fee is added to the invoice for your accomodation.