Johan Schnürer assumes post as vice-chancellor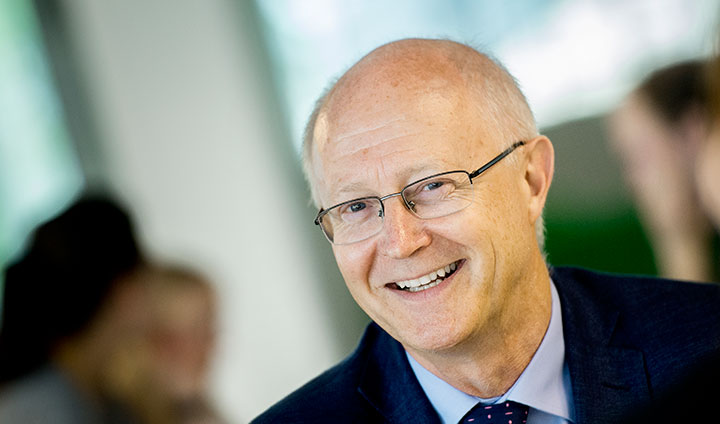 Johan Schnürer has just taken up the post as vice-chancellor of Örebro University but the starting blocks are already out for a number of initiatives. One of these originates from his commitment to sustainability and food-related issues.
"As a member of the national dialogue group put together by the Minister for Rural Affairs, I have worked on the upcoming food strategy. This is a field to which Örebro University can contribute with numerous competencies," says Johan Schnürer.
He therefore wants to explore the ways in which Örebro University can be a part of this work as it continues, but also what opportunities may come about in the wake of the Government's upcoming strategies for new industrialisation and IT.
Developing society
"Örebro University should contribute to the development of society. There is so much we can achieve if we work across disciplines, and at Örebro, the conditions are particularly favourable."
Johan Schnürer is Professor of Microbiology. He has had the role of pro-vice-chancellor for collaboration at the Swedish University of Agricultural Sciences, SLU, in Uppsala for six years, and prior to that, he spent 14 years as head of department. On 1 July, he took up the role as vice-chancellor of Örebro University, with his term running until the end of March 2022.
One of his first priorities after the summer will be to set up a "vice-chancellor's research advisory board".
"I want to bring together prominent researchers from different fields in an advisory capacity with the aim of assisting the University's senior management. It will enable them to contribute to the strategic development of research at Örebro. Moreover, when the Government's new bill on research and innovation is presented in the autumn, we must be on our toes, identifying the proposals that may be of particular significance to Örebro University."
Text: Linda Harradine
Photo: Kicki Nilsson, ICON
Translation: Charlotta Hambre-Knight