This page in Swedish
Long term follow-up of 'Let's get organized' - an intervention to improve time management
About this project
Project information
Project status
In progress
Contact
Research subject
Research environments
In this project, the intervention Let's get organized (LGO) is evaluated to explore whether the improvements in time management, satisfaction with daily occupations and executive functioning are maintained 12 months after the intervention Let's Get Organized.
The aim of LGO is to enhance time management skills in daily life and is developed for persons with mental disorder. The LGO is a manual-based group intervention that is based on learning theory and occupational therapy and is organized into 10 weekly sessions. In the intervention skills in for example time planning and to estimate the right amount of time for different activities are trained. Planning is trained by, for example, making to do-lists, prioritizing and focusing on energy levels and circadian rhythm.
A pilot test of the LGO has been conducted as a pre-post study without controlgroup, including persons with neurodevelopmental or mental disorder. The pilot test generated both quantitative and qualitative data showing promising results with improved timemanagement skills after intervention. In this long-term study, we are exploring whether the improvements in timemanagement, executive functioning and satisfaction of daily occupations are maintained 12 months after completed intervention.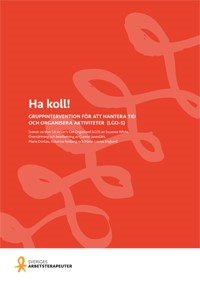 Collaborators
Afsaneh Hayat Roshanay, Landstinget Uppsala
Patrik Arvidsson, Vuxenhabiliteringen, Landstinget i Gävleborg