About this project
Project information
Project status
Completed
Contact
Research subject
Research environments

Additive manufacturing and nanosafety challenges

Additive manufacturing (AM), or industrial three-dimensional (3D) printing, is a new technology offering wide opportunities to create complex structures with applications in industry, biomedicine and in everyday life. However, like many new technologies, AM potentially involves uncertainties regarding the health of operators and end-users. AM processes usually employ high temperatures and different particulate powders (metallic, polymeric, ceramic, composite) or polymeric filaments as feedstock and generally release diverse volatile organic compounds (VOCs) and varying amounts of (nano)particles (NPs) during the production or post-production processing, machine maintenance and cleaning or when operators remove the personal protective equipment (PPE). Therefore, comprehensive assessment of the exposure pathways, levels, and health risks of NPs in AM is urgently required. In doing so, NanoSafety project will collaborate with AM company AMEXCI AB and company producing industrial filters Absolent AB.
The NanoSafety project will assess safety of NPs used in AM industry by enhancing research synergies among the partners and working packages and by translating research data into useful knowledge for the diversity of stakeholders, from machine operators, R&D scientists, consumers to policymakers.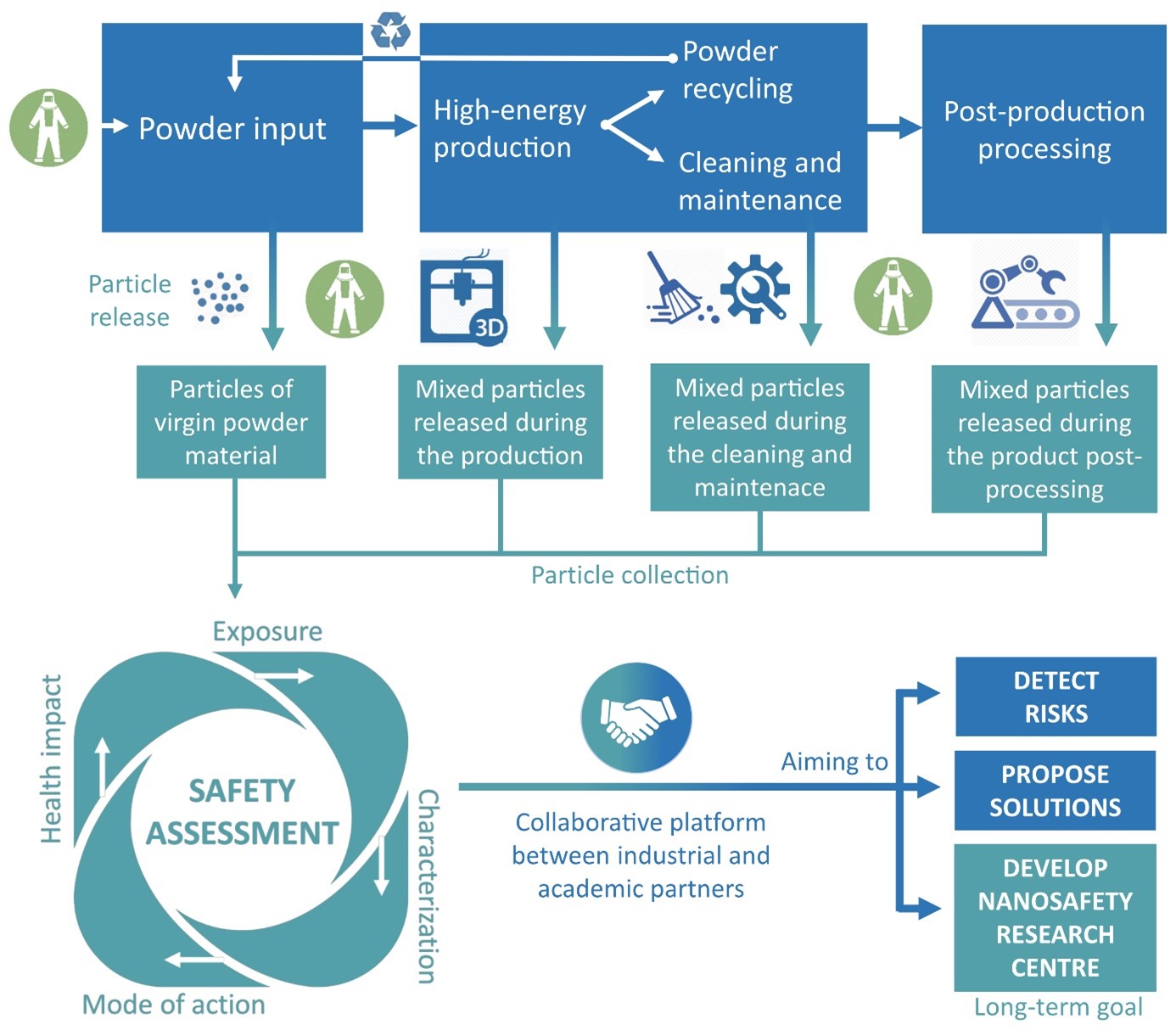 NanoSafety project overview. As a joint platform between academic and industrial partners, NanoSafety aims to perform proactive and preventive work to overcome occupational fears and further boost safe development of the AM technology.
Research


(Nano)particle exposure
This part of the project aims to map and track (nano)particle release pathways and levels in order to identify the locations/workplaces of potential harmful exposure.
(Nano)particle characterization
This part of the project aims to determine physical and chemical properties of (nano)particles used in the AM as well as the unintentionally released (nano)particles collected in the AM work environments.
(Nano)particle mode of action
This part of the project aims to elucidate the toxicity and biological effects, including endocrine disruption, genotoxicity, or the inflammatory potential of characterized AM (nano)particles using in vitro model systems.
(Nano)particle health impacts
This part of the project aims to monitor the cohort of AM workers with the goal to understand long-term exposure risks and health effects.
Industrial collaboration and knowledge transfer
This part of the project aims at communicating with the industry and getting more industrial and academic partners involved in the future studies and projects.
Vision for the industrial partners
The focus vision for AMEXCI is to unravel the potential consequences of working with specific materials and to secure a safer work environment and improved working guidelines throughout the AM process chain. Top priorities for AMEXCI are understanding during what AM operation the exposure risk is the highest, what type of PPE is necessary or is there any concern around printers when they are working, what kind of equipment is necessary to clean the machines or just show them to the visitors.
The focus vision for Absolent is to obtain the information about specific areas and processes within the AM that could result in release of hazardous (nano)particulate materials that should be considered when designing the air management in the AM facilities. Moreover, understanding the size and the concentration of the released (nano)particles is very valuable when developing new filters devoted for the AM industry
Vision for the academic partners and the general population

Combining the expertise of all academic partners will be a critical aspect in developing a unique scientific core and a large collaborative research center around the (nano)particle safety. Within the (nano)particle safety research center, academy, industry, and other stakeholders will work together to identify the locations/workplaces of harmful exposure, to understand the health impact of exposure, and to accumulate knowledge on how to create a safer environment in the AM. Another important objective of this project is to create an efficient communication platform with industrial partners and ensure that the gained knowledge finds the in-house industrial application.
Scientific community and general public will have the access to the project's knowledge through the regular scientific publications and through the project's webpage. Direct feedback to industrial partners, media or other interested organizations will be regularly managed through project newsletters or workshops.
NanoSafety communication and knowledge transfer
Industrial partners and public
On October 26, NanoSafety project was presented at the Höstmingel 2022 with the theme of environment and sustainability. It was a great opportunity to share NanoSafety findings and future perspectives with a number of researchers, companies, funding bodies, and politicians. For more information visit the following link https://www.oru.se/nyheter/hostmingel/.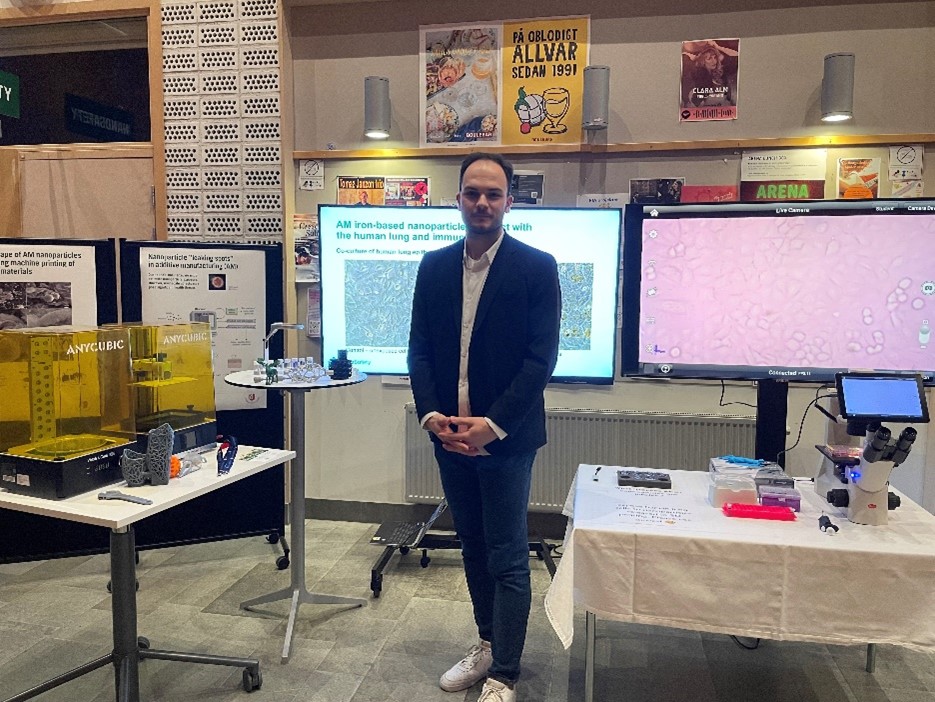 Dr. Alijagic at the Höstmingel 2022.
On May 4, 2022, Dr. Alijagic gave presentation at the Workshop on Health and Safety with Wärtsilä@AMEXCI entitled (Nano)particle safety in additive manufacturing. NanoSafety continues to share its main findings with industrial partners as one of the key priorities.
Scientific conferences
Dr. Alijagic participated in the 16th International Congress of Toxicology (ICTXVI), the largest and most prestigious congress on toxicology, in the beautiful city of Maastricht, the Netherlands, September 18-21, 2022. He presented poster on the use of high-content screening by Cell Painting assay as a new approach for the toxicity screening of additive manufacturing (nano)particles. Abstract has been published in the Abstract book in the journal Toxicology Letters:
https://www.sciencedirect.com/science/article/pii/S0378427422015466?via%3Dihub.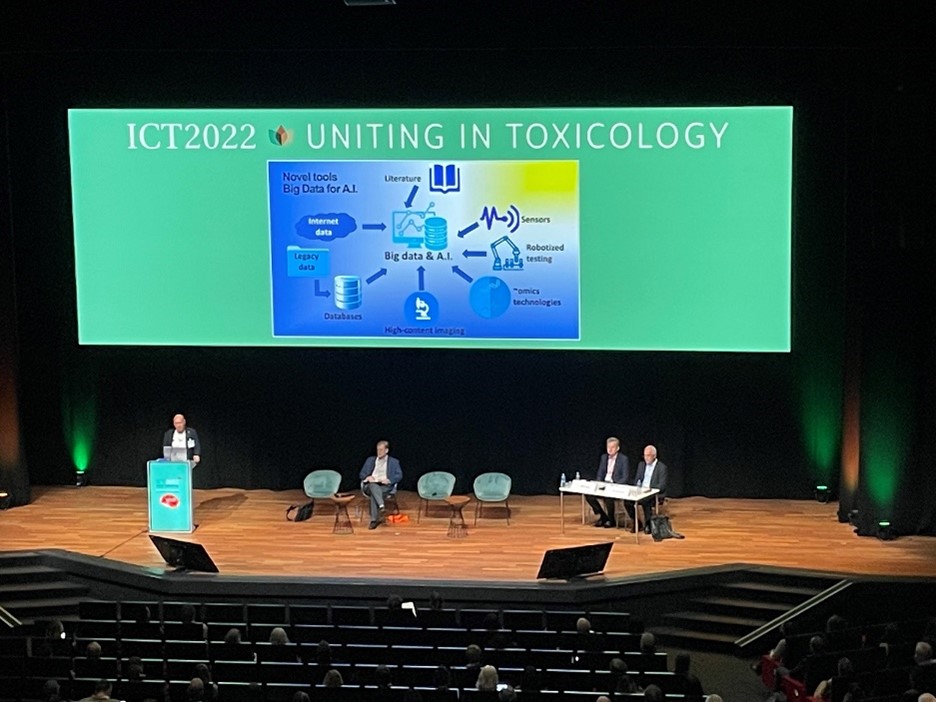 International Congress of Toxicology (ICTXVI), Maastricht, the Netherlands.
At the end of May 2022, NanoSafety findings were presented as a poster at the Additive Intelligence 4.0 Conference in Gothenburg. It was a great occasion to meet with a number of (inter)national additive manufacturing companies and scholars working within this field. Interaction with additive manufacturing experts facilitates identification of potential safety risks.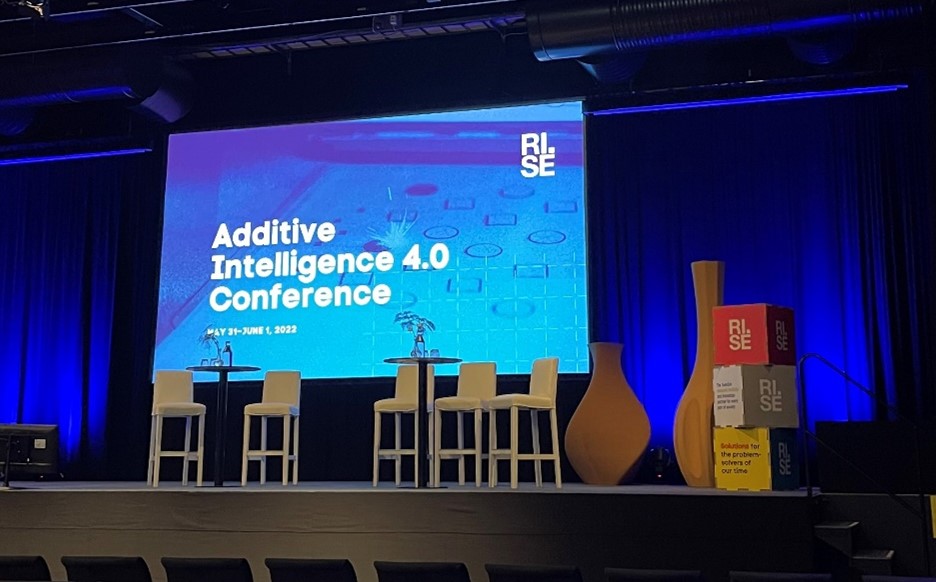 Additive Intelligence 4.0 Conference, Gothenburg, Sweden.
Scientific articles
The last article published within NanoSafety project by Alijagic et al. (2022) is a review summarizing particle exposure risks and advanced toxicology testing approaches in additive manufacturing landscape. The review is published in Frontiers in Toxicology and can be found at the link below:
https://www.frontiersin.org/articles/10.3389/ftox.2022.836447/full
A research article by Vallabani et al. (2022) is a collaborative effort between NanoSafety and HÄMAT2 projects and it reports toxicity evaluation of particles formed during 3D-printing, with focus on cytotoxic, genotoxic, and inflammatory response in lung and macrophage models. The article is published in journal Toxicology: https://www.sciencedirect.com/science/article/pii/S0300483X22000129