GeMUS
Gender and Music: Practices, Performances, Politics 16th-18th March 2016 School of Music, Theatre and Art, Örebro University, Sweden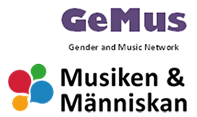 From challenging the idea that music is an inherently democratic medium, to observing how we should approach music as a political tool, musicians, activists and feminist theorists have done a great deal to change the way people think about music. At the same time, the way in which gender has often been subverted through music has also fuelled discussions about how we understand gender as performative, malleable and diverse.
Nevertheless, gender inequalities in terms of representation in education and the music industries, are remarkably evident. Access to resources, participation in musical activities and the way in which music can reproduce certain stereotypes, also still persist. In addition, the absence of an intersectional focus has tended to obscure different power dynamics when looking at gender in music. This international, interdisciplinary conference, hosted by the School of Music, Theatre and Art at Örebro University, will seek to explore new directions in gender research for thinking about access, production, participation, musicology and music criticism, but also how we can continue to challenge gendered social inequalities through analysing music.
Keynote Speakers
Professor Susan McClary (Case Western Reserve University) is one of the most influential thinkers in feminist musicology. Her seminal text Feminine Endings: Music, Gender and Sexuality (1991) which explored constructions of gender and sexuality in music, from early modern to Madonna, continues to be a significant text across disciplinary boundaries. She has written numerous books from a critical musicological standpoint including Conventional Wisdom: The Content of Musical Form (2000) and Structures of Feeling in Seventeenth-Century Expressive Culture (2013).
Professor Jack Halberstam (University of Southern California) is one of the world's foremost queer and cultural theorists. He regularly contributes to public debate on gender and sexuality and has written extensively on queer approaches to music, film, art and literature. He is the author of Female Masculinity (1998), Gaga Feminism: Sex, Gender and the End of Normal (2011) and The Queer Art of Failure (2011).
Professor Stan Hawkins (University of Oslo) is a leading scholar on gender and contemporary popular music. He has recently completed a Norwegian Research Council funded project entitled Popular Music and Gender in a Transcultural Context. He is also the author of Settling the Pop Score: Pop Texts and Identity Politics (2002), The British Pop Dandy: Masculinity, Popular Music and Culture (2009) and co-author, with Professor Sarah Niblock, of Prince: The Making of a Pop Music Phenomenon (2011).