This page in English
Leo Yeung
Tjänstetitel: Universitetslektor
Organisation: Institutionen för naturvetenskap och teknik
E-post: leo.yeung@oru.se
Telefon: 019 301421
Rum: B3307

Om Leo Yeung
Leo Yeung anslöt sig till MTM Research Centre som universitetslektor 2016. Han erhöll B.Sc. (Environmental Life Science - 2003) vid University of Hong Kong, MPhil (miljövetenskap - 2006) och PhD (miljökemi - 2009) vid City University of Hong Kong, fick postdoktorala utbildning vid City University of Hong Kong, National Institute of Advanced Industrial Science and Technology (Japan) och University of Toronto (Kanada, 2010-2014). Efter det arbetade han som forskarassistent vid University of Toronto.
Det finns ett globalt intresse att utvärdera toxicitet, mänskliga exponeringsvägar och globala transporter av polyfluoroalkyl- och/eller perfluoroalkyl ämnen (PFASs). Den omfattande spridningen av PFASs i miljön, särskilt perfluorooktansulfonat (PFOS) och perfluoroktanoat (PFOA), medföra att dessa kemikalier utgör ett växande miljöproblem. Farhågorna över PFASs potentiella effekter på miljön och människors hälsa har lett till flera globala forskningsprogram kring förståelsen av PFASs källor, transport och toxicitet. Mina forskningsprojekt fokuserar på dessa aspekter och sker i samarbete med andra forskargrupper för att fylla i kunskapsluckorna för de delarn som saknas 1) att förstå farmakokinetik och toxikologi för PFASs med hjälp av djurmodeller; 2) att utöka nuvarande kunskap om PFASs i utvecklingsländer; 3) att utveckla analysmetoder för mätning av PFASs samt ett nytt koncept -massbalans tillämpning för att förstå nuvarande PFAS föroreningar i miljön med hjälp av total organisk förbrännings jonkromatografi (TOF-CIC); 4) r att identifiera och mäta nyligen identifierade PFASs i miljöprover med hjälp av LC-TOF MS och LC-MS/MS-spektrometri tekniker; och 5) att studera transport av oidentifierade PFASs i miljön. Mina forskningsintressen är inte begränsade till PFASs, jag arbetar också med andra forskargrupper med olika långlivade organiska föroreningar (POP) såsom PAH, PCB, bromerade flamskyddsmedel och PKN, läkemedel samt alggifter.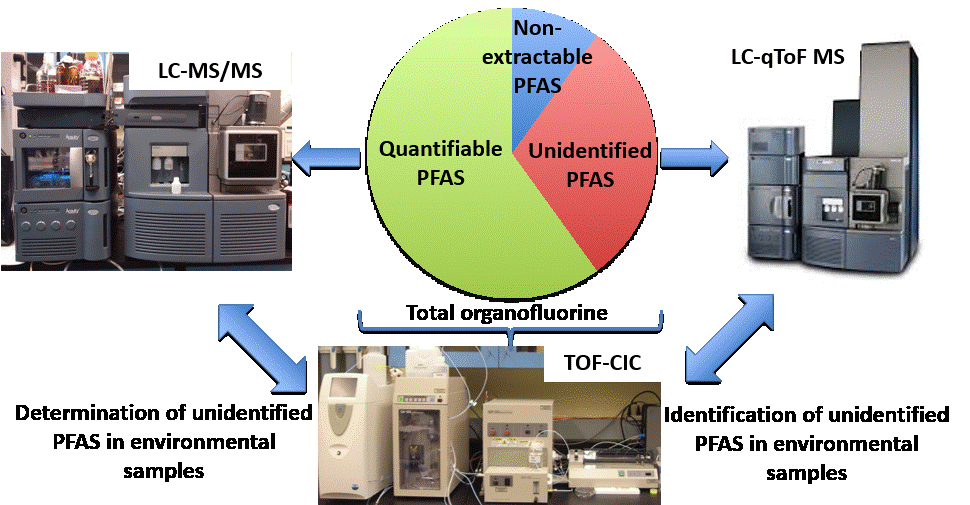 Jag är också involverad i undervisningen på vår avdelning för analytisk kemi och miljökemi med inriktning mot miljöforensik .